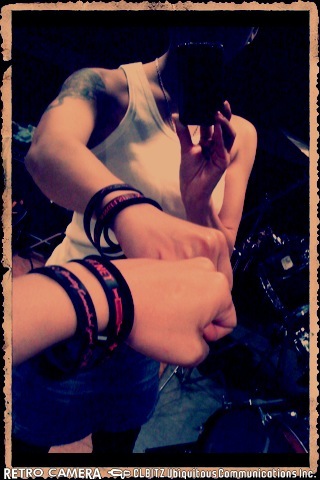 @ Studio with AngelSpit's bracelet.
I went to studio to scream!
I haven't been singing recently.
Well…I've got a cold but I'm good, recovered now.
Keeping the  "Strong voice " is practice and the most important things is feelings, so I realize it when I concentrate my attention on the BAAL's world view.
Voice and feelings is bleeding to my lyrics and my world view.
My lyrics and my world view need my hell & evil voice power with Mikito's sounds…!!
BAAL is working on new album.
It will be bring HELL storm to you.
Our last album released in 6.16 2008 and we toured in AU with AngelSpit.
I found precious thing in my life then.
☆This photo's bracelet is one of my heart.☆
I will never take off it until we meet again.
Post Tags:
Browse Timeline