BAAL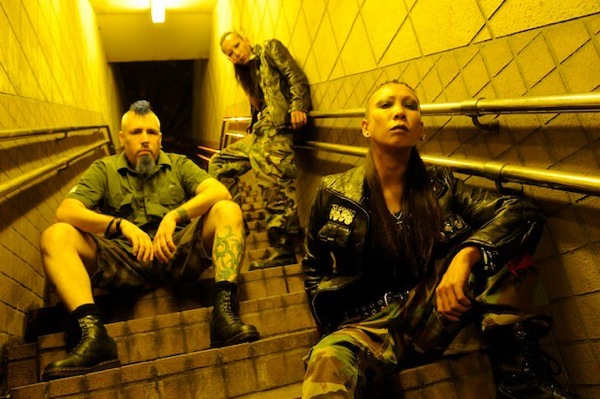 BAAL's sound is " Cybernetic Heavy Industrial Rock," transcending industrial, electro and modern heavy rock styles.
BAAL strives to create a sense of unlimited energy borne from a powerful living body. The band's sound is created as an original, pure art form, built upon repeated clashes of shattered programming sounds.
On stage, BAAL delivered a screaming emotional set, unleashing a TSUNAMI of sound to create a sense of distortion in time and place.
U-tarou screams out her vocals to exorcize the evil within.
With shouts of anger and sorrow from the depths of her despair, she seeks to overcome her fears while searching for the power to fight on.
MIKITO's programmed arrangements deliver a sound of devastation, taking the audience's senses to the limit, while drummer  Alan violent beat makes up the body of BAAL.
Nov.2006, BAAL's long awaited first mini album containing 6 songs
"TERRITORY OF B.A.A.L" is released to massive success.
The first European tour is dared according to the release of "TERRITORY OF B.A.A.L" in the same month.
Germany(Koln, Berlin, Munstar, Bremen) ,and Netherlands.
Five performances in total are ended in the big success.
Also, BAAL performed in this tour to famous industrial club "K17″ of Berlin.
BAAL introduced to the monthly schedule as the first Japanese real "Industrial band" with the photograph, BAAL attracted many industrial fans.
Dec. 2006, the production of the image work that becomes first BAAL begins.
"TERRITORY OF B.A.A.L" 2 promotion video of "VERMIN" and "myrrha" of collection is announced.
This image video can see in BAAL YOUTUBE .
Mar. 2007, the merchandise brand by BAAL and "BLACKGUARD HERO" were established in March.
Production and sales such as T-shirt, stickers, and posters then go on sale.
BAAL's second Germany tour(Berlin, Chemnitz,Koln) was carried out on the 16th March 2007. It was a huge success and many people came to BAAL's show than last time tour.
June, 2008 – BAAL released their 2nd mini album "RELIGION 616″ .
"RELIGION 616″ proved to be a more hard core, raw expression of music than "TERRITORY OF B.A.A.L" had been.
BAAL toured Australia for the first time (performing gigs in Brisbane, Perth, Melbourne and Sydney)  during June, 2008 with the Cyber-Punk duo ANGELSPIT. They released their new album at that time "RELIGION 616″, in conjunction with the tour.
BAAL's live shows had a huge impact with the Rock, Metal, Punk, Goth and Industrial scenes they performed for, heightening their notoriety and popularity.
BAAL have remixed tracks for several well-known artists including ANGELSPIT, LEFT SPINE DOWN and Spectrum-X to name a few. As they do this, they're gradually spreading their sound throughout the world.
Finally in July, 2009, BAAL organized their own event, "King of Evil 13″.
BAAL   IS   JAPANESE  INDUSTRIAL / CYBERPUNK  ROYALTY.
"Good children go to Heaven. Bad children go to BAAL GIG." !!
ROCK !
BAAL official website : www.baaljapan.net
BAAL myspace : www.myspace.com/baaljapan